Change Your California Registered Agent
Trusted by over 75,000 businesses since 2002, LegalFilings is the smart way to start and manage your business.
Fixed at $50/yr
100% Satisfaction Guaranteed
Advanced CorpWatch™ Compliance Included
Save 75% on Your Annual Registered Agent Fees
LegalFilings can save you hundreds of dollars in annual registered agent fees. Our registered agent fee is fixed at $50 per year – no price increases, ever.
Our registered agent service includes:
Preparing and filing your annual or biennial reports - all you pay is the applicable state fee. ($100 Value)
Compliance monitoring - our proprietary CorpWatch™ service that automatically notifies you of important state compliance and other deadlines. ($100 Value)
Full privacy - Use our address as the mailing and principal business address for the public information listed on the state's site.
Forwarding mail from governmental agencies, including from the Secretary of State, tax departments, and others.
Digital forwarding of legal service of process within 24 hours, followed by forwarding of the original documents using Registered or Certified mail.
How do I change registered agents?
Switching to LegalFilings is a simple process that won't take more than five minutes. Once you've signed up, we'll file all the necessary paperwork with the Secretary of State's office to change the agent free of charge, so you can focus on running your business.
LegalFilings, a BBB accredited A+ business, has provided registered agent services for over twenty years. We've helped thousands of business owners enjoy greater flexibility and full legal compliance.
If you are considering starting a business as a corporation or as a Limited Liability Company (LLC) one of the first formalities you need to comply with, is choosing a registered agent.
Even in the event that you register as a foreign corporation or LLC and start trading in a new state, you would need to select a registered agent
There are a number of things you need to know while choosing your registered agent. By choosing a particular agent, you authorize him or her to receive mail related to the tax and legal matters of your company. It is imperative, therefore, that your registered agent owns or rents an office premises and possesses a physical address. A registered agent with only a PO Box will not serve your purpose.
You must also ensure your registered agent is available at the address provided during normal business hours to receive your mail. Your registered agent's address is made available to the public and all important documents sent by the state such as the Notice of Litigation or Service of Process is directed to this address. All tax documents are also received by the registered agent on your behalf.
There is another scenario where the registered agent comes in handy. When you form a corporation or an LLC, most states require you to provide a legal address. The address of your registered agent is an excellent alternative to this and is enough to fulfill the requirement. If your corporation or LLC is branched out over a number of states you would require a registered agent in each of these states. Service providers or hired professional registered agents serve the purpose in this case.
You may wish to act as the registered agent of your own business. However, in such cases, remember that you will encounter the following disadvantages:
You are liable to receive a huge quota of junk mail addressed to your business.
Frequent address changes may lead to a situation where you would have to pay taxes to file a change of address with the state.
You can also face embarrassing situations at times. For instance, in a case of litigation, members of law enforcement agencies may come and deliver the Service of Process to you themselves.
There is only so much you can do yourself each day. Opting to handle your mail as well, along with all the work related to business, can be very hectic. More than anything, it could lead to a situation where you may end up losing or missing out on important documents, such as Service of Process and tax documents.
There are certain things you need to keep in mind when you are looking for a registered agent. The first thing is to be sure that the registered agent you hire meets the specific requirements of your corporation or LLC. In the event that you do go in for a professional registered agent, do make sure you inquire into the agent's history.
All of Our Packages Include
CorpWatch™ Compliance
Included is our advanced compliance monitoring portal which will track deadlines for filing state taxes and maintenance filings for your business.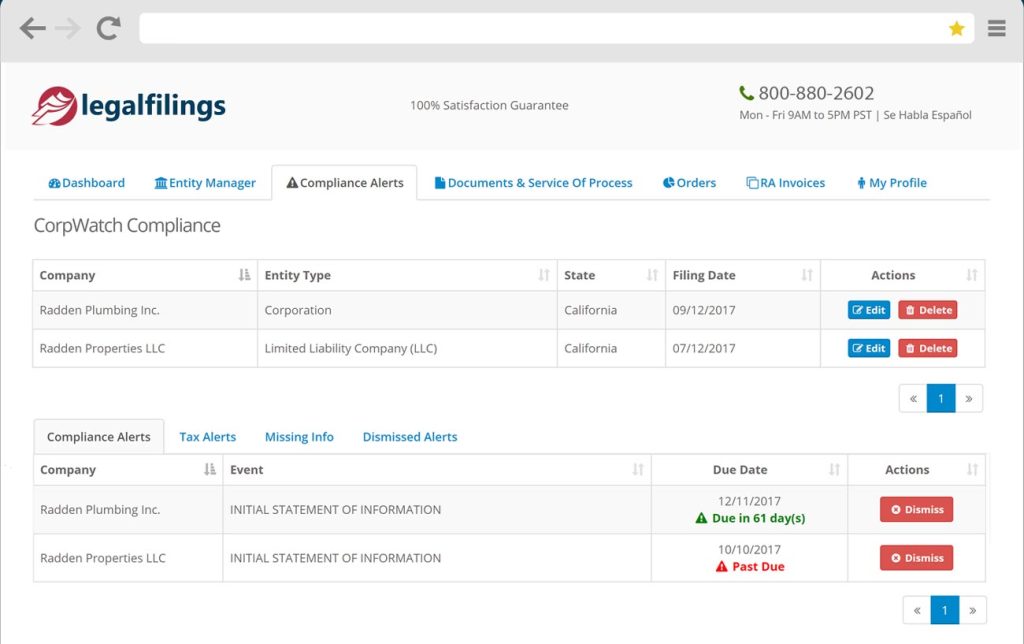 Why Legalfilings
We understand that your nonprofit is constantly evolving, and so are we. Our team is dedicated to staying ahead of the curve and keeping you informed on all the latest news, insights, and resources for nonprofits.
We're passionate about entrepreneurship, and we're here to help you achieve your dreams. Thanks for being part of the community!